The magic of permanent bracelets 🌟
Permanent bracelets are the latest trend in jewelry. Using a special technique, they are directly and permanently fixed to your wrist . Seamless and continuous, completely free of annoying fasteners . Gold & Mary attaches great importance to safety and quality, which is why we only use certified devices from market leader Sunstone. Visit us in our studios in 📍 Winterthur (CH), 📍 St. Gallen (CH) and now in 📍Munich (DE) to experience the magic of permanent bracelets and jewelry ⛓️⚡!
🥨 Munich here we come! ⚡⛓️
After our successful stores in St. Gallen (CH) and Winterthur (CH), we are setting another 📍 milestone:
On October 27th we will open the doors of our brand new store in Munich!
In the trendy Bazaar Noir , right in the pulsating heart of Munich, you can experience the unique magic of our permanent bracelets up close. Immerse yourself in a world of elegance and durability and become part of our growing community. Munich, we are ready and can hardly wait to welcome you!
Visit us!
Gold & Mary - your address for seamless elegance
Immerse yourself in the world of Gold & Mary , the leading expert for permanent jewelry in Eastern Switzerland and now also in Munich. Our studios in St. Gallen, Winterthur and Munich await you in a central location, just a few minutes from the respective train station. Experience the magic of permanent bracelets : seamless, without annoying carabiners and firmly attached to your wrist. Choose from our diverse selection of Sterling Silver, Gold Filled chains or our exquisite 14k solid gold chains. Thanks to advanced Sunstone technology, your bracelet becomes a seamless work of art with a gentle flash of sweat. At Gold & Mary you will find jewelry in its purest and most lasting form.
More about us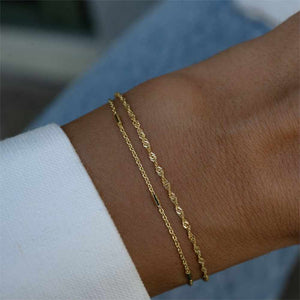 Secure your appointment!
The enthusiasm for our seamless Forever Bracelets grows every day. At Gold & Mary we notice that due to increasing demand, the available slots are becoming increasingly scarce. Secure your appointment now and be one of the trendsetters. Your customized, individual work of art on your wrist is waiting for you - don't miss this opportunity.
Book an appointment here
A unique piece of jewelry as a sign of your love
Sarah and her partner wanted to give each other a unique piece of jewelry as a token of their love.
At Gold & Mary they found the permanent bracelet they wanted.
The advice was friendly and competent. Sarah and her partner are very happy with their piece of jewelry, which will always remind them of their love.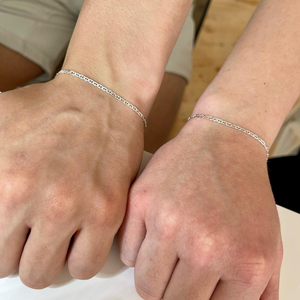 Our quality promise
In our collection at Gold & Mary we consistently rely on certified quality products, specially developed for permanent jewelry. From the detail of our jewelry chains to the precision of our spot welding machine - everything reflects the highest quality and durability. Discover more about the unique properties and added value of our products and why they are so valued in the industry.
More about our quality
Our customers love us!
We are proud to have a consistent 5-star rating on Google. Our customers trust Gold & Mary's quality and service. With us you only get the best. Check out our reviews here and see for yourself!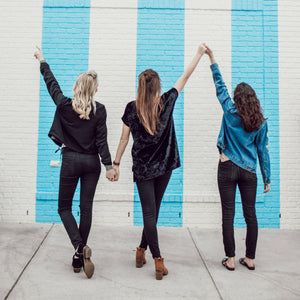 Become a partner and get started!
Take advantage of the opportunity to get into the permanent jewelry business. Open your own studio under the renowned Gold & Mary brand name and benefit from our extensive know-how. We provide you with all the work equipment and share all of our expertise with you so that you can get off to a lightning-fast start at your location. Sounds exciting? Let's get to know each other!
Learn more
Store St. Gallen (CH)
Güterbahnhofstrasse 7
CH-9000 St. Gallen
hello@goldandmary.ch
Tel: +41 (0)79 940 00 19
Mon, 1:30 p.m. - 5:00 p.m. *
Thu, 5:00 p.m. - 8:00 p.m. *
Fri, 5:00 p.m. - 8:00 p.m. *
Sat, 9:00 a.m. - 12:00 p.m. / 1:00 p.m. - 6:00 p.m

* every 2nd week, note dates in the booking tool
Store Winterthur (CH)
Ernst-Jung-Gasse 16 ad
CH-8400 Winterthur
winterthur@goldandmary.ch
Tel: +41 (0)79 940 00 19
Mon, 1:30 p.m. - 5:00 p.m. *
Thu, 5:00 p.m. - 8:00 p.m. *
Fri, 5:00 p.m. - 8:00 p.m. *
Sat, 10:00 a.m. - 12:30 p.m. / 1:30 p.m. - 6:00 p.m

* every 2nd week, note dates in the booking tool
Store Munich (DE)
Preysingstrasse 39
DE-81667 Munich
hello@goldandmary.ch
Tel: +41 (0)79 940 00 19
Fri, 3:00 p.m. - 6:00 p.m. *
Sat, 9:00 a.m. - 12:00 p.m. / 1:00 p.m. - 6:00 p.m. *
* Note irregular opening times/dates in the booking tool