• Permanent Bracelets • Schmucktrends
Permanent Bracelets: Ein Must-Have Accessoire mit Stil und Persönlichkeit
Erfahre alles über Permanent Bracelets – den neuesten Schmucktrend, der Eleganz und Individualität verbindet. Entdecke die Vor- und Nachteile dieser einzigartigen Schmuckstücke und finde heraus, ob sie zu deinem Stil passen. Unsere Expertin Simone, Co-Founderin von Gold & Mary, teilt ihre Insights und gibt Tipps, wie du das perfekte Bracelet für dich findest. Lass dich inspirieren von der Welt des Permanent Jewelry, die mehr ist als nur ein Trend – es ist ein Statement.
---
• Eröffnung • Expansion • München
The opening of the new Gold & Mary store in Munich was a dazzling convergence of elegance, determination and passion. Despite intensive administrative preparations and the challenge of finding the perfect location, Gold & Mary's dedicated team got off to a triumphant start. With an electric atmosphere, the finest coffee and unforgettable moments, the store became a hotspot for all jewelry lovers.
Discover the magic of permanent bracelets and experience the fascinating world of Gold & Mary.
---
• Gold & Mary • Preise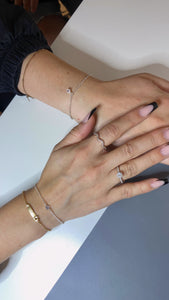 Immerse yourself in the glittering world of permanent bracelets at Gold & Mary! Discover what a Forever Bracelet really costs and how we impress with transparent prices and first-class quality. From gold filled bracelets to unique charms, find out all about the fascinating options and guarantees we offer you. Your dream bracelet is waiting for you!
---
✨
Gold & Mary now speaks your language!
✨
Discover the magic of permanent bracelets with Gold & Mary , the leading provider of permanent bracelets. Our website
www.goldandmary.ch
is now available in four additional languages:🇬🇧 English, 🇫🇷 French, 🇮🇹 Italian and 🇪🇸 Spanish. This move is in line with our growth strategy and demonstrates our determination to reach jewelry lovers worldwide. Visit us and experience the magic for yourself!
---
• Gold & Mary • Permanent Bracelets • Permanent Jewelry Designer
  Gold & Mary are the experts when it comes to permanent bracelets. These bracelets are the latest craze in jewelry. Using a special technique, they are directly and permanently attached to your wrist - seamlessly and without annoying fasteners.🔗. The magic of permanent bracelets 🌟 Permanent bracelets, also known as eternal or forever bracelets, are unique. Using Sunstone technology, they attach seamlessly to your wrist. You can choose from a variety of materials including sterling silver, gold filled and 14k solid gold. Thanks to our device made specifically for permanent bracelets and the use of argon gas, your bracelet...